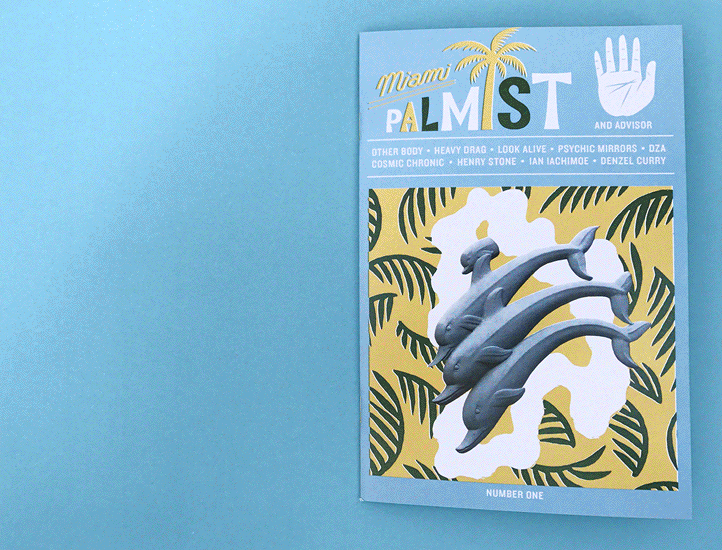 Miami Palmist (and Advisor) Issue 1
$

10.00
---
---
This zine is the first in a series of three, and was made to position Miami-Dade musicians as guides to South Florida. In an effort to avoid traditional interview format, musicians were invited to meet at distinct South Florida locations to explore and retroactively work with zine editor, Brian Butler, on making a graphic, game, or narrative.
• Other Body (https://otherbody.bandcamp.com/) - Airbrush merch at the Swap Shop
• Heavy Drag (https://heavydrag.bandcamp.com/) - Swap Shop drive-in film fest
• Look Alive 2015 (http://www.lookalivefest.com/) - fest recap ft. photographer Jaime Salazar
• Psychic Mirrors (http://www.psychicmirrorsmiami.com/) Versailles Restaurant hidden picture game
• Cosmic Chronic (http://www.cosmicchronic.com/) SUSPICION board game centerfold
• Henry Stone (http://www.henrystonemusic.com/) Miami legend's tips for making hits!
• Ian Iachimoe (https://ianiachimoe.bandcamp.com/) Band who's name is shrouded in conspiracy looks to uncover the secrets below The Everglades
• DZA (https://soundcloud.com/dza3000) two institutions collide as DZA shares his favorite menu items from Joe's Stone Crab
• Denzel Curry (http://www.ultimatedenzelcurry.com/) ULT drawing lesson with Carol City's hip hop hero
• Sweat Records (http://sweatrecordsmiami.com/) "Shop Local / Listen Local" album spotlight
Edition of 300
32 Pages
Full Color
Each issue includes a Miami Palmist sticker
Made possible with the generous support of the John S. & James L. Knight Foundation and Gramps (http://www.gramps.com/)